At Satellite Specialized Transportation, we are a full-service transportation and logistics company armed with over 30 years of experience in the truck freight transportation industry. In addition to specializing in flatbed shipping, oversized loads, power-only, and less-than-truckload (LTL) shipping, we offer a wide range of other shipping capabilities, including dry van shipping.
Overview of Dry Van Shipping
Dry van shipping is one of the most popular methods of shipping freight. It is used to ship non-perishable goods—loose or on pallets—that do not require the use of a temperature-controlled or flatbed trailer during transit.
Dry vans, unlike shipping containers, are connected directly to the transportation vehicle rather than loaded onto a flatbed. As such, this shipping method is not suitable for freight that requires air or water transit since the cargo will need to be transferred to another shipping platform. For cargo that is not temperature-sensitive or oversized and is transported over land, however, it sees widespread use due to its versatility and availability.
Benefits of Dry Van Shipping
Compared to other freight shipping methods, dry van shipping offers several advantages to manufacturers, distributors, and shipping companies, including:
Broader versatility.

Dry van shipping trailers are highly versatile, accommodating a wide range of non-perishable items, such as household products, plastics, building materials, shelf-stable food items, and more. Since the trailer is fully sealed and enclosed, the cargo can be stacked in boxes, remain loose, or shipped on wrapped pallets for easy processing. Additionally, the shipping method is suitable for use in conjunction with LTL, half-full, and full load shipment practices based on delivery demands.

Better freight protection.

Dry van shipping trailers are essentially large enclosed and sealed boxes that shield cargo from environmental damage during transit. While not suitable for transporting perishable goods, such as fresh food or dairy, they are effective at delivering non-perishable products to their final destination. Additionally, as the cargo is enclosed on all sizes, it can be safely locked away from potential thieves.

Wider availability.

Dry van shipping is one of the most commonly utilized types of roadside shipping. As such, shipping customers nearly always have access to experienced dry van shipping companies when they need them.

Lower cost.

Since dry van shipping companies are readily available for shipping customers and the method does not require the use of specialized equipment, dry van shipping often carries much lower shipping costs for customers.
Satellite Specialized Transportation: Experts in Dry Van Shipping
Dry van shipping is a versatile shipping method used for the delivery and distribution of a wide range of non-perishable, non-oversized goods. Depending on the load requirements, shipping companies may use a variety of dry van sizes to achieve better cost-efficiency.
At Satellite Specialized Transportation, we are well-versed in dry van shipping operations. Our extensive experience as a freight broker makes us the ideal partner for all transportation needs.
For additional information about our shipping services, visit our Services Page or Contact Us today. To get pricing details, Request a Quote.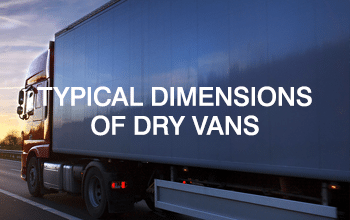 Typical Dimensions of Dry Vans
Standard dry vans are 53 feet in length. However, they also come in a variety of other sizes to handle different cargo demands and make shipping more affordable and environmentally friendly. For example, smaller shipments are more suitable for shorter trailers, which take up less road space and require less fuel to get the job done.
The dimensions of commonly available dry vans are outlined below.
53-foot trailers.

These trailers are 53 feet long with a height and width of 8 feet 6 inches. The storage capacity of these trailers accommodates 26 standard pallets across the floor of the trailer.

28-foot trailers.

These trailers—also referred to as pup trailers—are often used for LTL shipments. They are 28 feet long by 8 feet wide by 9 feet high, enabling them to fit 14 standard pallets across the floor.

Straight trucks.

Straight trucks—sometimes called box trucks—are smaller than both 53-foot and 28-foot trailers, with a length of 24 feet, a width of 8 feet, and a height of 8 feet 6 inches. Their more compact size makes them suitable for urban deliveries.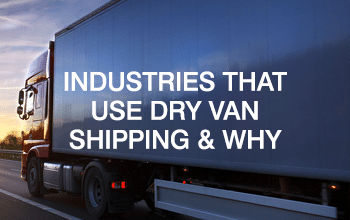 Industries That Use Dry Van Shipping + Why?
Companies across a wide range of industries employ dry van shipping to deliver and distribute their products. Some of the industries that commonly use the shipping method include:
Automotive

Cleaning supplies

Consumer goods

Electronics

Entertainment

Food and beverage

Health and beauty

Manufacturing
These industries, among others, benefit from using dry van shipping to transport high volumes of non-perishable goods at a cost-effective price. As these goods are pre-packaged and shelf-stable, companies can safely send them to distribution centers, stores, and other destinations without worrying about product degradation.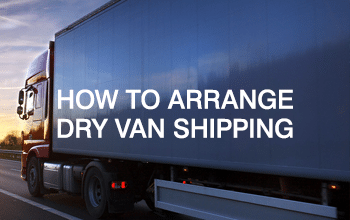 How to Arrange Dry Van Shipping
When deciding whether dry van shipping is appropriate for the transportation of goods, the first step is determining whether the products require special accommodations during transit, such as a temperature-controlled environment or flatbed. If the goods are non-perishable and not oversized, dry van shipping may be appropriate.
Once the dry van shipping method has been selected, the next step is contacting a shipping company. Whether it is a one-time shipment or a regular occurrence, the company should be able to arrange the right method—e.g., full truckload or less-than-truckload—to accommodate the shipment at the best possible price.
Some of the factors that may affect the final shipping cost are:
Load density and weight

Start and ending locations

Special load requirements, such as handling or regulatory standards
Safe & Secure
You benefit from our experience in delivering effective solutions to the complex global supply chains of some of America's biggest corporations.
Fast Delivery
You benefit from every innovation, whether it involves a simple extension to our Air or Ocean Freight partners, or it means a development in warehousing.
24/7 Support
All of which explains why you'll find the team of outstanding support at Satellite Trans ready to apply their passion for solutions in support of your business.