Discover our capabilities + the benefits of
Flatbed Shipping
Ground transport takes on various forms to accommodate the specific parameters of the freight being shipped. Flatbed trailers are used to transport cargo that is too large for van trailers or intermodal containers, doesn't require protection from the elements, or requires loading and unloading with special lifting equipment such as cranes.
Benefits of Flatbed Shipping
Flatbed trailers off a versatile shipping solution that accommodates a variety of special shipping circumstances. Flatbed shipping is most common among industrial shippers, who rely on it to transport large equipment, machinery, steel, pipes, rigs, lumber, and an expansive range of other bulky freight or freight that requires side or top loading. Some of the primary benefits offered by flatbed shipping include:
Greater dimensional versatility

Easy loading and unloading access for cranes and forklifts

Versatile trailer options, such as step deck, double drop, side kit, Conestoga, hot shot, or multi-axle
Although flatbed shipping removes many of the restrictions of dry van shipping, it requires precise dimensions and weights to facilitate safe, on-time delivery of your freight.
Flatbed Freight Shipping From Satellite Specialized Transportation
Flatbed freight shipping provides the necessary versatility to accommodate special shipping circumstances not available from dry vans. Transporting goods using flatbed trucking provides greater dimensional versatility, accommodates loading/unloading access from all angles, and includes a variety of trailer options to meet specific needs.
Contact us to learn more about the flatbed freight shipping benefits and solutions provided by Satellite Specialized Transportation or Request a Quote customized for your specific shipping needs.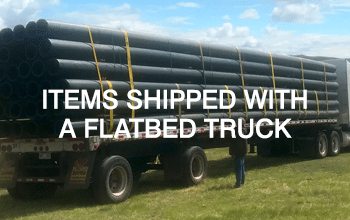 Items Shipped with a Flatbed Truck
You can ship just about anything on a flatbed truck as long as the freight and trailer comply with Department of Transportation (DOT) dimensional and securement regulations. Common types of freight shipped using flatbed trucks include:
Machinery and Equipment (tractors, agricultural implements, backhoes, dozers, excavators, forklifts, construction, manufacturing and warehousing equipment, etc.)

Construction Materials (concrete tees, lumber, large beams, trusses, etc.)

Oversized Freight (items exceeding 100″ and/or 100″ width)

Top-Loaded or Side-Loaded Freight (loaded/unloaded using crane, winch, roll off platform, forklift, etc.)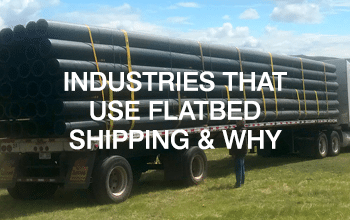 Industries That Use Flatbed Shipping + Why?
Flatbed freight shipping is common across a broad range of industries for a variety of reasons. Some of the industries that frequently rely on flatbed shipping include:
Construction

. In addition to transporting construction equipment such as backhoes, scaffolding, cranes, caterpillars, and more, freight in this industry often includes steel, concrete, solar panels, lumber, piping, and the delivery of numerous other materials to the job site.

Aviation/aerospace

. Flatbed trucking facilitates the shipping of large aircraft, spacecraft, and satellite parts and components between manufacturers, assemblers, launch sites, and more.

Automotive

. Flatbed trucks transport whole vehicles to dealerships, as well as damaged or totaled vehicles to salvage yards.

Manufacturing

. The manufacturing industry often utilizes flatbed trucking to transport manufacturing equipment such as CNC machines.

Distribution

. Though the majority of distribution items ship by dry van, there are instances where oversized items, tall loads, or products with loading/unloading limitations require the use of a flatbed truck.

Agricultural

. Commercial farming usually requires the use of large, heavy equipment like combines and tractors, which exceed the dimensional capacity of dry van shipping and do not require protection from the environment.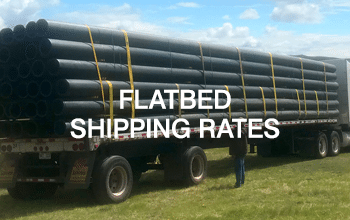 How to arrange Flatbed Shipping
A variety of market factors affect flatbed shipping rates. The most common variables include:
Weight and dimensions of freight

Origination and destination of the freight

Diesel prices

Availability of trucks/trailers

Regional and seasonal conditions
Safe & Secure
You benefit from our experience in delivering effective solutions to the complex global supply chains of some of America's biggest corporations.
Fast Delivery
You benefit from every innovation, whether it involves a simple extension to our Air or Ocean Freight partners, or it means a development in warehousing.
24/7 Support
All of which explains why you'll find the team of outstanding support at Satellite Trans ready to apply their passion for solutions in support of your business.