To transport oversized cargo, handlers need to complete specialized training and licensing.
Transporting oversized cargo is more complicated, expensive, and dangerous than shipping standard freight, which is why it's also more regulated. To perform the job safely and efficiently, companies need to coordinate with a logistics company and outline a plan together.
What makes cargo oversized?
Specifically, any shipment is considered oversized if it meets one or both of the following conditions:
It's wider than 8.5 ft
It's longer than the vehicle's bed
Companies in every industry transport oversized cargo, but some of the most common examples of shipments include:
Agricultural machines
Aircraft, boats, and large vehicles
Equipment for energy plants, mines, and oilfields
Heavy machinery for factories
Heavy construction components, like concrete beams and metal girders
Pre-assembled homes
Satellite Specialized Transportation
We are a highly reputable freight broker with more than 30 years of experience. We offer exceptional service and handle precise shipping requirements with the utmost care. In testament to our professionalism and quality service, Dunn & Bradstreet consistently awards our company exceptional ratings.
To find out more about oversized cargo shipping and specialized transportation, contact us online or request a quote today.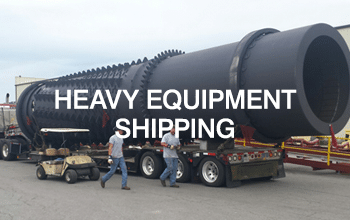 Heavy Equipment Shipping
There are many factors to consider before you ship oversized cargo, including:
Equipment Type: Shipping requirements vary depending on the type of cargo you're transporting. The shipping method for industrial machinery, for example, isn't appropriate for transporting agricultural vehicles. Fuel storage, elemental exposure, and other conditions factor into the transportation method and packing requirements.
Cost and Time: The delivery schedule, mode of transportation, and route affect the shipping cost. If there are any special handling requirements, like climate control, that can also impact the shipping expenses. If the delivery involves multiple modes of transportation, like air freight and trucking, these complications could increase the overall price.
Cargo Size and Weight: The larger and heavier the cargo, the more expensive it will be to move. Depending on the materials you plan to ship, it might be worthwhile to consider disassembling the equipment before transport and then reassembling them at the destination.
Freight Broker and Transport Company: Many transportation companies will compete for your business. Make sure you hire a broker that's reliable and simplifies operations for you. The cheapest option could cost you if the cargo is damaged, lost, or delivered late. Before signing with anyone, check the company's ratings with independent agencies like Dunn & Bradstreet.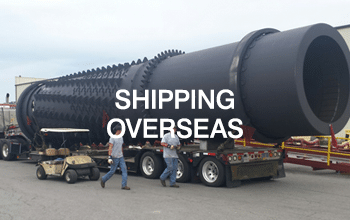 Shipping Heavy Equipment Overseas
For overseas shipping, if the freight doesn't fit inside a standard container, it will be considered oversized. Therefore, it's economical to remove detachable parts and ship them separately as standard freight.
Several methods of oversize shipping are also available for transoceanic transportation, including:
Flat Rack Shipping: The flat rack does not have a roof or sidewalls, which means it can accommodate cargo of various shapes and sizes.
Roll-On / Roll-Off (RoRo): This is ideal for drivable vehicles, but it can also be used for non-drivable cargo that's stored in a carrier.
Lift-On / Lift-Off (LoLo): LoLo is used when the freight is too large for RoRo and flat rack shipping. The transporter lifts the cargo onto the deck of a large ship at the source port and then removes it at again the destination.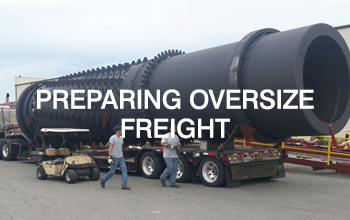 Preparing Oversized Freight
Oversize cargo shipping is more expensive than standard shipping, but there are steps you can take to save money:
Carefully measure your cargo size and weight to receive an accurate quote. Give the transportation company information about the product's dimensions and shape and include a photo or diagram to set clear expectations.
Determine the method of shipment that's best suited to your needs. RoRo is usually the most economical method for domestic and international shipping.
When possible, consider removing detachable parts and shipping them as standard freight.
Safe & Secure
You benefit from our experience in delivering effective solutions to the complex global supply chains of some of America's biggest corporations.
Fast Delivery
You benefit from every innovation, whether it involves a simple extension to our Air or Ocean Freight partners, or it means a development in warehousing.
24/7 Support
All of which explains why you'll find the team of outstanding support at Satellite Trans ready to apply their passion for solutions in support of your business.