What is Freight Management?
The supply chain has moved from a back office function to a boardroom-level consideration in most organizations. Optimizing the transportation of goods is a complicated, yet essential problem to solve because it directly impacts a company's bottom line. Through proper freight management, businesses can generate significant savings and insulate themselves from supply chain disruptions.
What does Freight Management entail?
At its core, freight management is the process of optimizing the delivery of goods. Through the careful management of inbound and outbound shipments, shippers can foster beneficial relationships with carriers and streamline the movement of cargo in such a way that it benefits all parties involved.
Aspects Involved in Freight Management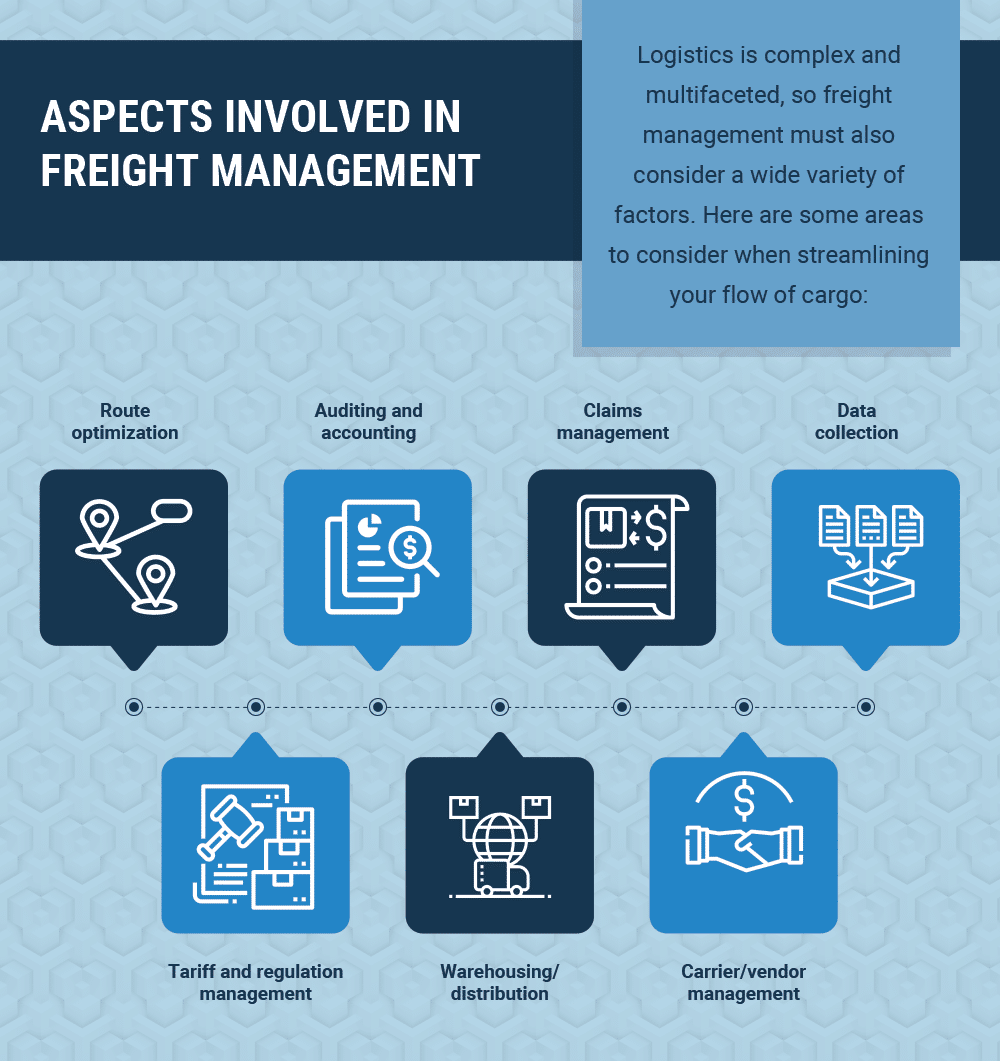 Logistics is complex and multifaceted, so freight management must also consider a wide variety of factors. Here are some areas to consider when streamlining your flow of cargo:
Route optimization. Optimizing delivery routes saves on time and fuel costs, which ultimately makes carriers more affordable and results in more efficient deliveries for the recipients of shipments.
Auditing and accounting. Freight audits review or monitor transportation-related financial documents for accuracy and errors, while freight accounting helps to ensure that customers pay for the shipments after receipt and carriers get paid on time.
Claims management. In the unfortunate event that cargo is damaged, one of the functions of freight management involves handling claims between the shipper, customer, and carrier.
Data collection. The data gathered during freight movement can help to optimize routes and processes on future shipments.
Tariff and regulation management. Harmonic system tariff codes and other trade regulations are complex and may result in significant fines if improperly implemented. Part of cross-border freight management involves ensuring compliance with these regulations.
Warehousing/distribution. Organized warehouses and docking operations reduce wait times and detention fees at the dock, resulting in cheaper shipping, happier carrier partners, and faster shipments.
Carrier/vendor management. Freight management often involves the management of multiple carrier partners, suppliers, and vendors. For large operations, this may involve dozens or hundreds of business relationships.
Difference Between Freight Management and Logistics Management
Freight management and logistics management have significant overlap, largely because freight management is essentially a subset of the larger logistics operation for the business. While freight management includes many logistics management principles, it's important to consider the two as separate entities. Freight management is specific to the efficient movement of cargo between shippers and receivers, which may include carriers, dock workers, and any other touch point for the freight.
Logistics management is broader in scope. Though similar to freight management, logistics managers have a more expansive view of the supply chain that follows a product throughout its entire lifecycle, from raw material through recycling or disposal. 
Current Advances in Logistics Technology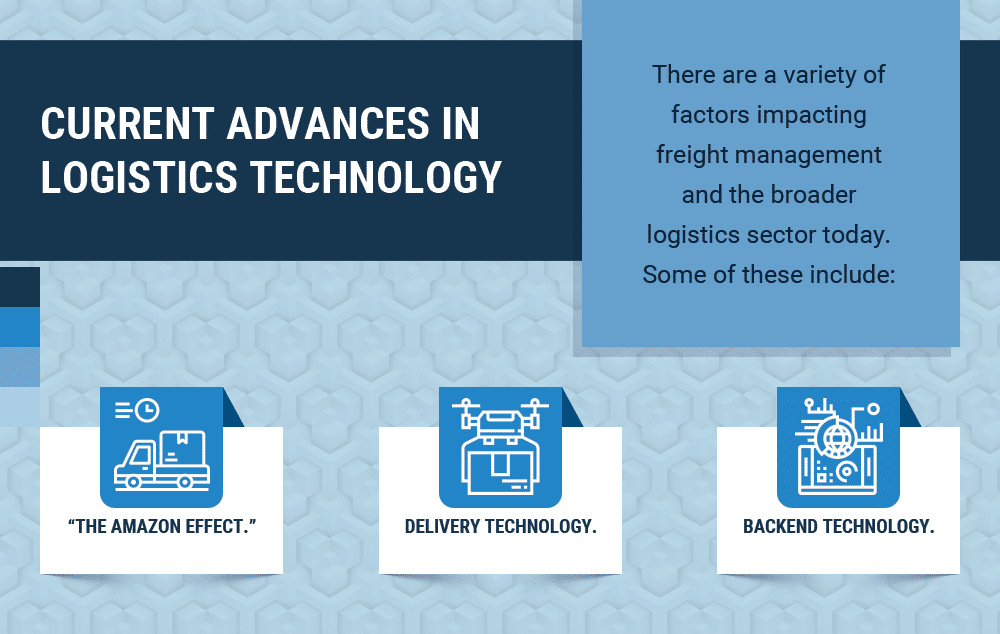 There are a variety of factors impacting freight management and the broader logistics sector today. Some of these include:
"The Amazon Effect." Amazon has left consumers with the expectation that all shipments can be delivered in one or two days, for free. This has strained the business models of traditional brick-and-mortar retailers, multi-channel retailers, and other e-commerce sellers who feel pressured to compete with Amazon's shipping times.
Delivery technology. New methods of delivery have the potential to shake up the supply chain in the very near future. From delivery drones and robots to self-driving trucks, the way we move goods through the supply chain will change dramatically very soon.
Backend technology. From enterprise resource planning (ERP), transportation management systems (TMS), warehouse management systems (WMS) and other logistics technologies, there is more data available to freight managers than ever before. While much of this data was often left unpacked, the rise of artificial intelligence and machine learning have enabled the logistics sector to use the data to improve processes, optimize routes, and drive efficiencies in all tiers of a business.
Freight Management From Satellite Specialized Transportation 
Freight management is all about optimizing the delivery of goods through efficient movement and storage, maintaining profitable relationships between suppliers and carriers, and emphasizing detailed accounting practices. Although it employs many of the same processes and strategies as logistics management, freight management is a nuanced field that hones in on the efficient transportation of goods. Professionals in the field today must constantly be on the lookout for changes in consumer attitudes and disruptive technologies that constantly redefine the nature of efficiency.
Succeeding in this nuanced, multifaceted field is essential for any business looking to optimize their shipping and transportation costs. At Satellite Specialized Transportation, we solve your toughest freight management problems with professionalism and integrity. To learn more about what we have to offer, read about us. If you're ready to get started, request a quote today.