What is Power Only Trucking?
When people see a loaded truck on the highway, most of them don't realize the two halves of the truck—the load-carrying trailer and the tractor pulling it—could be owned by different companies. This is a type of transportation service called "power only trucking," in which the company that owns the trailer hires the tractor and its driver from another company.
Power only trucking is a cost-effective transportation method for companies that store their goods on trailers for long stretches of time with occasional, on-demand, shipping between sites.
Benefits of Power Only Trucking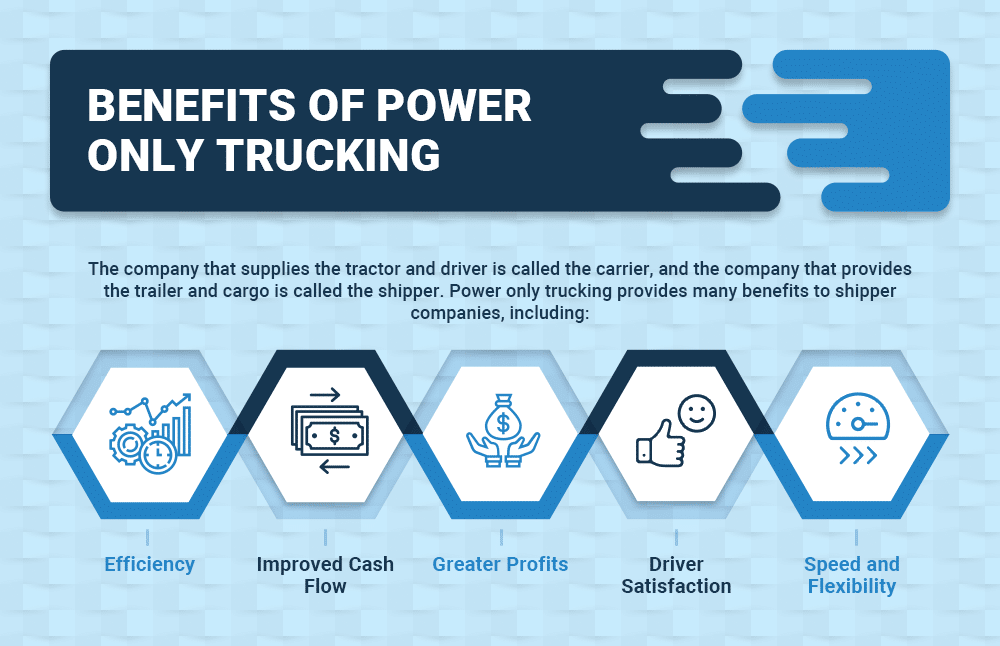 The company that supplies the tractor and driver is called the carrier, and the company that provides the trailer and cargo is called the shipper. Power only trucking provides many benefits to shipper companies, including:
Efficiency: Specialization is the key to efficiency. Power only trucking helps shippers focus on their cargo, without needing to also recruit contractors on demand, maintain a fleet of tractors, or keep a large roster of drivers on payroll.
Improved Cash Flow: Trailers and other physical assets can be rented or paid for with installments. Staffing, however, is a more costly expense that's subject to change depending on the market, talent recruitment and vetting, and attrition rates. By using power only trucking, shippers can manage their cash flow closely and adjust their process as needed. Since shippers also don't need to maintain a fleet of tractors, this also provides greater budgeting flexibility.
Greater Profits: By working with a carrier service, shippers reduce overhead costs and simplify logistics. As a result, they save money and can allocate their resources toward improving their products, promoting their business, and developing customer engagement. Many shippers are involved in businesses outside transportation and can benefit by working with specialists when it comes to hiring and vetting drivers, creating travel schedules, complying with border restrictions, maintaining the tractor mechanics, and other logistical demands.
Driver Satisfaction: When shippers hire drivers, they're likely to encounter long idle periods that affect the business's bottom line. As a result, shippers might need to hire contract workers who are less reliable and harder to recruit—otherwise, they might need to reduce employee hours or cut back their workforce periodically. Managing this payroll makes it challenging to scale up or down business operations. However, drivers who work with a business that provides power only trucking have steadier work and job security, which in turn leads to higher quality service.
Speed and Flexibility: Using power only trucking gives the shipper the freedom to select the right carrier for the specific shipping task at hand. Hence, a shipper can dispatch cargo quickly while maintaining flexibility. The process isn't constrained by how many tractors the company owns or how many drivers are on payroll. It can also make it easier to transport goods across international borders or rush deliveries that need round-the-clock staffing.
How to Ship a Trailer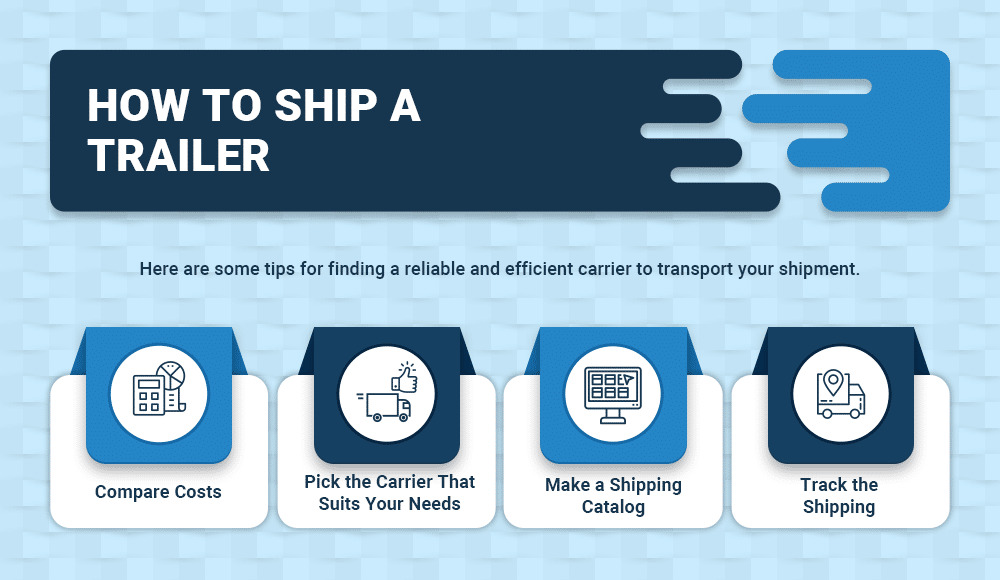 Here are some tips for finding a reliable and efficient carrier to transport your shipment.
Cost Overview: Power only trucking saves businesses money on mechanical maintenance and staffing, but sometimes the lowest-cost carrier isn't the most reliable. Work with an experienced partner in transportation to protect your shipments and deliver them on schedule.
Pick the Carrier That Suits Your Needs: Make a shortlist of carrier companies using these criteria: location, capacity, customer reviews, ratings from independent regulation companies, and the projected cost. Use these criteria to guide your decision about choosing a carrier.
Make a Shipping Catalog: Write detailed descriptions of your trailers and the inventory that's included inside them. Include the cargo's size and tonnage, along with the make and model of the trailer. Photos of the cargo and trailer can also be helpful.
Track the Shipping: Make sure the carrier updates you with the progress of the trailer from source to destination. If you are using a transportation broker, they can provide this information to you.
Power Only Trucking With Satellite Specialized Transportation
Satellite Specialized Transportation Inc. is a transportation broker with a high industry credit rating by Dun & Bradstreet that's operated for over 30 years. Throughout our history, we have provided exceptional service by solving transportation challenges of any size with professionalism and integrity. We've earned the trust of our customers through our work ethic, logistical acumen, and streamlined transportation services, including power only trucking.
If you have any questions about hiring a carrier for power only trucking or require another transportation solution, get in touch with Satellite Specialized Transportation Inc. by requesting a quote.